Diabetes opportunities in Greater Manchester
The diabetes team from the Greater Manchester and Eastern Cheshire Strategic Clinical Networks (SCN) worked with Research for the Future to recruit patients to help with the development of a patient information leaflet.
The purpose of the leaflet was to make sure that everyone living with diabetes in Greater Manchester knew about the different opportunities available to them.  The team produced a simple document summarising the options and worked with those recruited to gain their feedback on the accessibility of the format used and the information contained to make sure that the document was easy to understand and would serve as a helpful resource.
Sarka Grayson (Project Manager) SCN diabetes team said:
'Working with Research for the Future has been fantastic, they have advised and helped us with the entire recruitment process. We received a great response and invaluable feedback that led to significant changes and improvements to our final document. We can't wait to share the information with everyone."
View the leaflet on the Diabetes My Way website.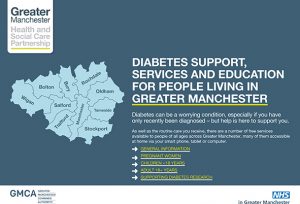 Research for the Future is not responsible for the content of external sites.